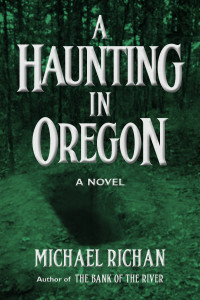 A Haunting in Oregon is now available at Amazon!
It's the second book in The River series, started by The Bank of the River.
Book Description:
"It looks haunted."
This is Steven's first impression of Mason Manor, tucked away in the forests of Oregon. The historical estate, built in 1850, is now a bed and breakfast run by Pete and Sarah. Guests were drawn to the building's beauty, location, and its reputation for ghosts. However, when guests begin to mysteriously die at the hotel, business dries up and Pete turns to his old friend Roy. He hopes Roy's experience with ghosts will save his business. Roy and his son, Steven, agree to help.
Roy and Steven jump into the mystery and find things are much worse than they appear. They endure horrific encounters with the ghosts of the manor and discover a sinister force at work. Roy and Steven will need to use Roy's gift and marshal the help of others to save Mason Manor from the terrors within.