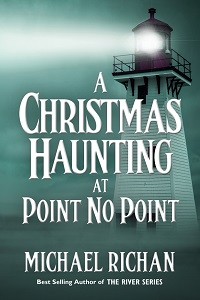 A CHRISTMAS HAUNTING AT POINT NO POINT is available for pre-order now!
This is a stand-alone novel, and no prior reading is necessary to enjoy it.
Here's the book description:
Steven's brother and his family have come to visit for the holidays. Looking for a relaxing and quiet location to enjoy the scenic beauty of Puget Sound, Steven chooses Point No Point, the oldest lighthouse in the region. Here, the lighthouse keeper's quarters have been remodeled into a vacation rental, and it seems to be the perfect location.
Perfect, if your idea of quiet is loud thumpings coming from the abandoned museum next door. Perfect, if your idea of relaxing is a slow, creeping infection emanating from the shipwrecks just off the shore.
In this stand-alone novel, Steven and his father Roy find their picturesque Christmas holiday turning into a family nightmare as they unravel the haunted secrets from the deadly shores of Point No Point.
A Christmas Haunting at Point No Point is the eleventh novel in The River series, but no prior knowledge of the series is required to enjoy it.
---
I've always wanted to have Steven and Roy in a holiday setting, where the peaceful, contented pace of family and Christmas could be jarringly disrupted by something ghostly and terrifying.
Christmas is, after all, as much about the past as it is about the present. Sometimes the past insists on being heard, regardless of how much we try to ignore it.
I wanted this episode in The River series to be independent of much of the current storyline that's converging between all three series ­­— like a pause, a rest…a breather from the norm, like Christmas itself.
The events in The Cycle of the Shen and The Blood Gardener will continue to develop after the holiday, I promise! For now, I'm enjoying spending some time with Roy and Steven, his brother Bernard, Bernard's wife Marlene, and their daughter Emily, as they survive their Christmas amongst the foggy environs of the Kitsap Peninsula, and the oldest lighthouse in Puget Sound: Point No Point.
Thank you for following me, and I hope this new story adds to the warmth of your holiday.
(Well, maybe not warmth, exactly…)
Michael