Book 8 in The River series, The Haunting at Grays Harbor, is now available in Kindle and paperback formats!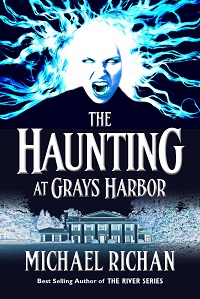 The book description:
Barbara and her family's new home overlooks the beautiful, dark waters of Grays Harbor. They live so close to the ocean, she can smell it from her front porch. From the outside, the home seems perfect. But inside, Barbara has called on her third priest, and he's about to throw in the towel. The chilling apparitions in the house are terrorizing her daughters — and the local clergy! — and Barbara is desperate for help.

Steven has "the gift," and along with his father, Roy, has offered to investigate — but a hired crew of ghostbusters from Seattle are in the way and making things worse. When Steven discovers a strange object in Barbara's house, he and Roy realize the ghostbusting outfit are about to unwittingly set in motion a series of events that will heighten the family's horrors.

Grays Harbor is only minutes from Eximere, and Steven and Roy discover things are not normal there either. Large pieces of the strange underground estate are disappearing, and Steven and Roy are desperate to find out why. They'll have to dig deeper into the mystery of James Unser and the bizarre world he constructed if they're to save Eximere from oblivion.

The Haunting at Grays Harbor is a fast-paced paranormal mystery, and the eighth book in The River series. It can be read stand-alone.