The Impossible Coin, the second book in The Downwinders series, is available just in time for Halloween!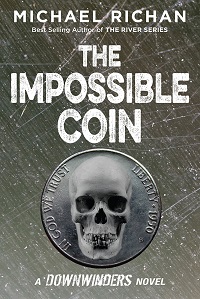 Downwind: the area of the United States that received the brunt of the fallout from nuclear testing. As a result, humans developed cancers and congenital malformations… and so did the creatures in the River, the place where people with "the gift" see things others cannot.
Young Winn has recently discovered he has this ability, though he hardly knows how to use it. When his friend Brent suggests they search for treasure in the hills surrounding their Tucson suburb, Winn joins him and puts his newfound skills to use. They discover a cave filled with mutated ghosts possessing unusual powers. Here, Winn finds something so incredible, it begins a nightmare that will haunt him for the rest of his life.
Winn's mother is distant and uninterested in mentoring his abilities, so Winn turns to Marty, a neighbor who steers him toward a solution. On the way, they meet Jeanette, a crazy but prophetic resident of their trailer court, and Ida, a firecracker who gave up part of herself to confront a similar nightmare.
If the ghosts in the cave were normal, Winn and Brent might stand a chance. But the ghosts are downwind, where radiation changed everything…
The Impossible Coin is a fast-paced adventure with an unusual twist on ghosts. It is the second book in The Downwinders series, but can be read stand-alone.
The Kindle version of The Impossible Coin is available exclusively at Amazon! If you're looking for the paperback, it will be available at Amazon within a day or so. I hope you enjoy this latest installment in the River… it's one of my favorites.