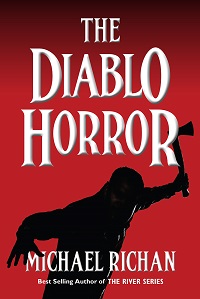 The new book in The River series, The Diablo Horror, is available today for Kindle at Amazon. com. The paperback will be available in a couple of days.
Here's the book description:
Diablo is a small company town – twenty nondescript homes, tucked against a cliff at the base of a huge dam. These houses are all the same, except for one – the one haunted by a bloody and horrific crime that replays again and again.

Steven tries to wrap up the deal he made with a demon before rescuing his son from St. Thomas. This leads Steven to the Diablo house with his father and son. Unprepared for the powerful entities inside the house, Steven soon learns he's made a fatal mistake. Eliza joins them as they attempt to battle the most evil force they've ever encountered.

In one of the most chilling books of The River series, Steven, Roy, and Eliza learn that when it comes to making a deal with a demon, there's one unfortunate truth:

Demons lie.
Pick up your copy at Amazon today! I hope you enjoy this new entry in the series.