The River Series | The Downwinders Series | The Dark River Series | Other titles
Some of the characters and events overlap between series. If you're starting from scratch, try the
The River Series
The River series currently consists of fourteen novels and one novella, in this order: The Bank of the River, Residual, A Haunting in Oregon, Ghosts of our Fathers, Eximere, The Suicide Forest, Devil's Throat, The Diablo Horror, The Haunting at Grays Harbor, It Walks At Night, The Cycle of the Shen , A Christmas Haunting at Point No Point, The Port of Missing Souls, The Haunting of Johansen House, and Evocation.
Each book is a novel-length stand-alone work which can be read on its own (Residual is the novella). Steven and his father, Roy, are central to each book. There are some recurring characters and events. As with any series, reading them from start to finish is the most satisfying, and the later books increasingly rely on plot elements from the earlier books.
What is The River? Here's a bit of dialogue from The Bank of the River that helps explain it. Roy is trying to explain his "gift" to his son, Steven:
"There's a wide river in front of you, rushing along, thousands and thousands of gallons of water moving every second, all coming from somewhere, all going somewhere. You can't see what's in there, but there are things in there, moving along with it. We both know that. You, because someone told you there's things in the river. You like to pretend they're not there. Me, I know they're there because I jump into it and find them, touch them, experience them."

Steven wasn't prepared to go along with it. It sounded too kooky. "A river?"

"Not a literal river, no. It's one that most people can't see or choose not to see. But it's there, moving, full of things. I found out when I was younger that I could jump into that river, swim in it. Find things. Come back out. When I told some people about it, it scared the hell out of them, but my father knew what I meant. He could do it too. He taught me to be selective in whom I told."
In The Bank of the River, rational skeptic Steven comes to learn about his father's gift while they battle an evil force in Steven's house. In the subsequent novels, Steven learns from Roy how to develop his gift.
Here's a description of each book: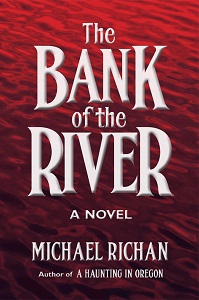 Steven is anticipating a quiet sabbatical at a new home. Instead, knockings and grisly apparitions begin to haunt him, relentlessly tormenting him at night. With a recent divorce and a son in college, he is left alone to deal with the ghosts lurking in the shadows of his house.
Steven is determined to find a rational explanation. His father Roy offers to help, and soon Steven discovers Roy has dormant supernatural skills. Steven's natural skepticism clashes with Roy's "gift," but soon Steven finds himself assisting Roy as he battles the forces inside his home. Together they unearth something much more sinister and evil than either expected: ghosts are just the beginning of the problem!
The Bank of the River is a fast-paced and thrilling horror novel that explores evil, ghosts, disturbing creatures, and the supernatural gifts a father and son use to fight them.
In Residual, Steven and Roy discover that Steven's house isn't as clean as they thought after destroying Lucas. The story takes place between the events of The Bank of the River and A Haunting in Oregon.
The novella Residual isn't for sale. It's only available to members of Michael's new release email list. Sign up today and receive your free copy!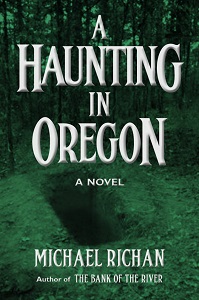 Mason Manor, tucked away in the forests of Oregon – historic, beautiful, and completely haunted. The estate, built in 1850, is now a bed and breakfast run by Pete and Sarah. Once a wonderful place to stay, now it's not so great – guests don't survive the night, and are found the next morning in bed, in a pool of blood. Pete and Sarah turn to an old friend, Roy, who has "the gift," but are they too late to stop whatever malevolent force is prowling the halls at night?
Roy and Steven jump into the mystery and find things are much worse than they appear. They endure horrific encounters with the ghosts of the manor and discover a sinister force at work. Roy and Steven will need to use Roy's gift and marshal the help of others to save Mason Manor from the terrors within.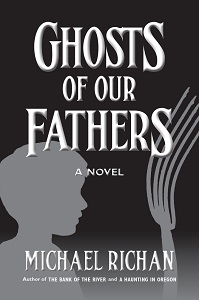 Steven is scared – he's awakened in the middle of the night by a mysterious figure that threatens to kill him. Is it a ghost, or some other evil creature? Steven's determined to figure out what it is and how to stop it. He would normally turn to his father, Roy, who is educating him on how to use "the gift" to deal with ghosts and other threats, but Roy isn't available. Steven turns instead to his gifted friends Eliza and Daniel. Daniel's an expert on time, and they all soon discover the true nature of the threat: it comes from the past and it's worse than any of them realized. Strange ghosts and creatures stand between them and the solution. Time is running out as Steven, Roy, Daniel and Eliza dig into the past to learn of half-finished business that is coming back to haunt them all.
Ghosts of Our Fathers is a fast-paced horror-thriller where Steven and Roy confront a ghostly history that is determined to take revenge upon their entire family.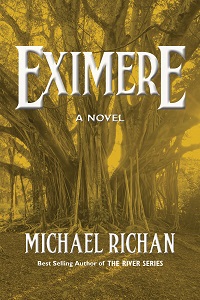 Deep in the forests of the Pacific Northwest lies the haunted Unser Estate. A group of individuals with "the gift" assemble to find out what lurks inside the mansion. At first, Steven and Roy are hesitant to work with unfamiliar people, but with their good friend Eliza, all three become committed to helping the others determine why the Unser mansion is poisoning the nearby town.
A simple team effort to rid the estate of hauntings soon turns into a nightmare as the group suffers attacks by strange, evil forces more sinister than mere ghosts. Dark and mysterious threats await them as they explore the mansion and determine exactly what James Unser was up to – a plan so evil, it threatens to destroy them all.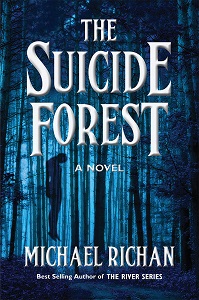 In these dark, secluded trees in Washington State, it's easy to get lost, and desperation hangs in the air. The Suicide Forest is full of demons, drawn to those who come to kill themselves. Steven and Roy find themselves here, facing down an evil greater than any before.
The evil starts in the haunted Seattle home of June, grandmother to Robbie, a ten-year old boy who shares "the gift" with Steven and Roy. Steven suspects the ghostly attacks on June and Robbie are much more than a mere haunting and soon realize they are in over their heads.
They seek the help of Judith, an elderly eccentric, who guides them to a climactic confrontation in the dark clearing of The Suicide Forest.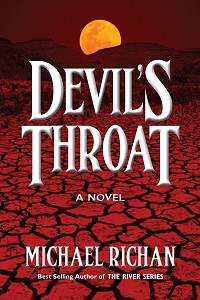 Far away, in the remote deserts of southern Nevada, lies a cave with secrets: strangely twisted creatures, mass deaths, and a hole so deep, anything that goes in, never gets out.
Steven's son Jason has been taken to this desolate place by someone bent on vengeance. Steven and his father Roy pursue them in a desperate attempt to save Jason's life.
However, the River is different here, where fallout from nuclear testing has altered the ghosts and entities inhabiting the many abandoned mines and hidden caves surrounding Devil's Throat. Steven and Roy are on unfamiliar ground; they seek the help of locals Winn and Deem to save Jason from a horrific ghost town, once submerged, now revealed.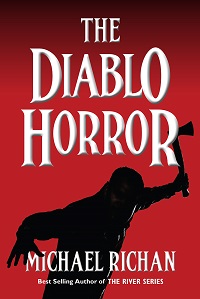 Diablo is a small company town – twenty nondescript homes, tucked against a cliff at the base of a huge dam. These houses are all the same, except for one – the one haunted by a bloody and horrific crime that replays again and again.
Steven tries to wrap up the deal he made with a demon before rescuing his son from St. Thomas. This leads Steven to the Diablo house with his father and son. Unprepared for the powerful entities inside the house, Steven soon learns he's made a fatal mistake. Eliza joins them as they attempt to battle the most evil force they've ever encountered.
In one of the most chilling books of The River series, Steven, Roy, and Eliza learn that when it comes to making a deal with a demon, there's one unfortunate truth:
Demons lie.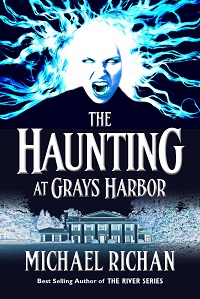 Barbara's new home overlooks the beautiful, dark waters of Grays Harbor. She and her family live so close to the ocean, they can smell it from the front porch. On the outside, the home seems perfect. But inside, Barbara has called on her third priest, and he's about to throw in the towel. The chilling apparitions in the house are terrorizing her daughters — and the local clergy! — and Barbara is desperate for help.
Steven has "the gift," and along with his father, Roy, has offered to investigate — but a hired crew of ghostbusters from Seattle are in the way and making things worse. When Steven discovers a strange object in Barbara's house, he and Roy realize the ghostbusting outfit are about to unwittingly set in motion a series of events that will heighten the family's horrors.
Grays Harbor is only minutes from Eximere, and Steven and Roy discover things are not normal there either. Large pieces of the strange underground estate are disappearing, and Steven and Roy are desperate to find out why. They'll have to dig deeper into the mystery of James Unser and the bizarre world he constructed if they're to save Eximere from oblivion.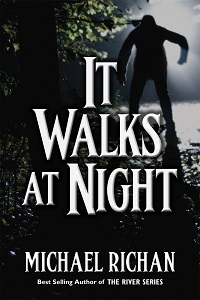 In the quiet town of Clearlake, something dark and evil roams the streets at night, searching for a victim to haul into the forest and kill. When it targets Eliza's son, forces are quickly aligned to fight it. Eliza asks for help from Steven and Roy, her friends in Seattle who have "the gift," an ability to see things others cannot by entering a place called "The River."
Their battle will take them to dark mausoleums and haunted groves. The answer may lie in the hands of a reclusive woman, a specialist in death… or it may revolve around a stalker, a man intent on creating an abomination.
Eliza, Steven, and Roy have worked together before, but the creatures that walk the streets of Clearlake will challenge them, bringing them to the edge of disaster.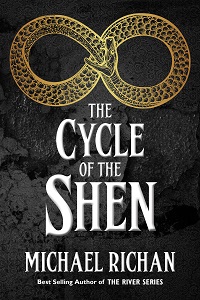 Does paradise only exist in our minds?
Eximere always seemed like paradise to Steven and Roy. Having agreed to act as caretakers for the mansion, they have been spending more time at Eximere, becoming acquainted with its quirks and idiosyncrasies.
However, the more Steven and Roy learn about Eximere, the more disillusioned they become.
Their recent discoveries of Eximere's nature have extended their circle of caretaking, and now a century-old creature from a tiny town on the peninsula threatens to unravel the delicate balance that keeps Eximere functional. As they struggle to stop this strange entity from destroying everything they love about Eximere, more of James Unser's bizarre design is revealed — and the results are devastating to Steven and Roy.
A Christmas Haunting at Point No Point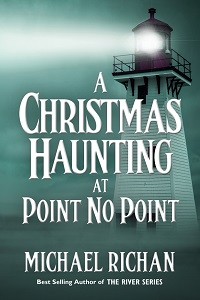 Steven's brother and his family have come to visit for the holidays. Looking for a relaxing and quiet location to enjoy the scenic beauty of Puget Sound, Steven chooses Point No Point, the oldest lighthouse in the region. Here, the lighthouse keeper's quarters have been remodeled into a vacation rental, and it seems to be the perfect location.
Perfect, if your idea of quiet is loud thumpings coming from the abandoned museum next door. Perfect, if your idea of relaxing is a slow, creeping infection emanating from the shipwrecks just off the shore.
In this stand-alone novel, Steven and his father Roy find their picturesque Christmas holiday turning into a family nightmare as they unravel the haunted secrets from the deadly shores of Point No Point.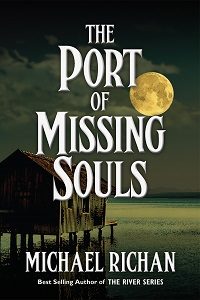 When the ghosts of grotesque, bloated bodies invade Eximere, Steven and Roy investigate only to find that other people are exploring the Unser Mansion above them, just like they did years ago. Somehow their arrival has released the spirits of dozens of drowning victims, who now wander the halls.
Secret rooms with no windows or doors hide new mysteries inside the mansion. It will take knowledge of the Dark River to figure things out. Although the Dark River is accessible from Eximere, Roy forbids it, and Steven has promised never to go there.
When Derick arrives to conduct his own investigation, it becomes clear that the Dark River is where the answers to James Unser's mysteries lie. Will Steven travel there, breaking his promise to his father?
The Port of Missing Souls brings together characters from three series, and is the climactic culmination of the Eximere story.
The Haunting of Johansen House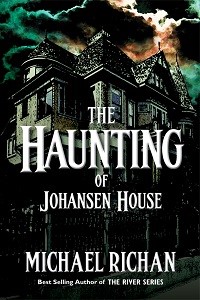 The Victorian mansion sitting at the end of the street is full of horrors. It waits, its secrets hidden, its influence deadly. The events that happened within its walls are a mystery so deep, the truth may never be fully known. Uncovering its chilling history will take determination and skill.
Steven bought the house when it went up for sale, surprising his father Roy. As they use their gift to explore its rooms, they discover it's full of unusual, terrifying spirits — some unresponsive, others violent.
Their search through Lukas Johansen's past takes them to far-flung destinations, digging for explanations about his bizarre, depraved behaviors. Through it all, Roy wonders why Steven is so intent upon revealing the answers. Steven, for his part, isn't entirely sure why he feels compelled to resolve the mysteries of the mansion — he simply knows that Johansen was a fundamental part of his past, and that he must pursue the truth.
When the truth is finally revealed to Steven, it is much worse than what he imagined…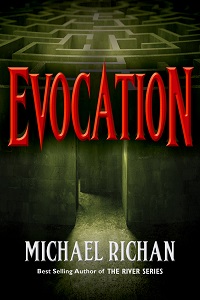 Eliza thought she was doing a favor for a friend. Instead, it turned out to be a twenty-year nightmare.
Forced to aid a madwoman intent upon bringing a new evil into the world, Eliza seeks help from Steven, Roy, and Terrell – but they're completely unprepared for the horror facing them. Attacked by those they are trying to help, they soon become trapped in the dark, mysterious passageways of a labyrinth, where a monstrous evil is gestating, waiting to be birthed.
---
The Downwinders Series
The Downwinders is a series in The River universe, using elements and some characters from The River series. It's set in the US southwest in places known as "downwind" from the Nevada Test Site, sixty-five miles northwest of Las Vegas, where hundreds of above-ground and underground nuclear tests were conducted from 1952 to 1992.
The mushroom clouds from the tests could be seen as far away as St. George, UT, over a hundred miles away. And since the winds carry the fallout from west to east, a wide area of southern Nevada, Utah, northern Arizona, northern New Mexico, and western Colorado were impacted. The closer to the test site you were, the more radiation you got. Deem and Winn live and work in one of the places most heavily impacted by the fallout, southern Nevada.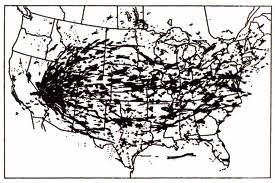 The damage done to humans living downwind was real. In 1990, the US Congress, recognizing the damage that had been done to "downwinders," passed the Radiation Exposure Compensation Act. The law was meant to reimburse people living in the fallout areas who had suffered "increased incidence of cancers, non-cancerous thyroid diseases, and congenital malformations."
The damage to the River in that area was different.  The congenital malformations humans suffered from the fallout seemed to diminish after several generations, but in the River, they were still happening, as though the half-life of the radiation didn't matter. It's these mutations that Deem and Winn, both gifted and living downwind, fight on a daily basis.
Deem and Winn first appeared in the novel Devil's Throat, the sixth book in The River series.
Here are the books in The Downwinders series:
Downwind: the area of the United States that received the brunt of the fallout from nuclear testing. As a result, humans developed cancers and congenital malformations… and so did the creatures in the River, the place where people with "the gift" see things others cannot.
Twenty-year-old Deem is gifted, but she is on her own without her mentor, her late father. Deem's family is now targeted by a strange creature that climbs on their roof at night and infects the house with poison. With help from the charismatic Winn, Deem tries to stop the attacks, but this is only the beginning, with more ghosts, Callers, and mutated creatures to come.
Deem met Steven and Roy when she helped save their son from the ghosts at St. Thomas. She was impressed by Roy's use of their ancestors' journals to assist with their work. Deem is confident her father left behind a journal for her somewhere, but her dangerous search becomes riddled with menacing secrets and revelations, putting people's lives at risk.
Deem and Winn are not alone; they are helped by Awan, a handsome Paiute who knows Native American tradition and can explain the strange forces targeting Deem. They also meet Carma, a friendly soul with a fantastic and valuable secret buried in her house.
Blood Oath, Blood River is a stand-alone novel; no prior experience with The River series is necessary to enjoy it. Fans of The River series will be intrigued by this new exploration of the River, set in a place where downwind radiation has made the ghosts and creatures of the River strange and unpredictable.
Young Winn has recently discovered he has "the gift," though he hardly knows how to use it. When his friend Brent suggests they search for treasure in the hills surrounding their Tucson suburb, Winn joins him and puts his newfound skills to use. They discover a cave filled with mutated ghosts possessing unusual powers. Here, Winn finds something so incredible, it begins a nightmare that will haunt him for the rest of his life.
Winn's mother is distant and uninterested in mentoring his abilities, so Winn turns to Marty, a neighbor who steers him toward a solution. On the way, they meet Jeanette, a crazy but prophetic resident of their trailer court, and Ida, a firecracker who gave up part of herself to confront a similar nightmare.
If the ghosts in the cave were normal, Winn and Brent might stand a chance. But the ghosts are downwind, where radiation changed everything…
Deem and Winn both have "the gift", an ability to enter a place called the River where they can see the things that most of us cannot. They are asked to help a young woman stricken with a mysterious ailment. The cure lies in the ancient cliff dwellings of Plague Canyon, hidden on the private property of a zealous and paranoid owner.
Warren, a rancher patrolling the canyon, shows an interest in Deem. She agrees to date him, hoping to manipulate him into letting her enter the ruins. Deem is surprised to find her interest in Warren becomes more than just a way into the canyon.
Winn is with her every step of the way as they explore treacherous mines and corpse-filled caves. Meanwhile, Carma and Lyman are planning a secret retaliation, and Deem is about to find herself in the middle of a deadly confrontation with Council forces.

Blackham Mansion was built next to a graveyard for a reason. Spiritualists who gathered there to make contact with ghosts knew the deceased were only a few feet away. Over the years, they became very successful at rousing the dead and inquiring about the afterlife.
Too successful.
Deem, a gifted nineteen-year-old, learns that the long-abandoned mansion holds secrets she must investigate. She becomes wrapped up with the unusual house located downwind, where years ago the brunt of Nevada's nuclear testing fallout rained down from the skies. As a result, Blackham Mansion isn't any ordinary haunted house. The entities inside — some helpful, some monstrously hideous — are things she's never dealt with before. Her friends Winn, Carma, and David try to help, but the forces inside the house overtake them all.
Winn and Deem come face to face with a terrifying reality: Be careful what solutions you hope for; sometimes the cure is worse than the disease.
Cryptic messages must be deciphered. Traitors must be tracked. And a massacre must be avoided — or instigated, depending on your perspective!
In the delicate moments just before sleep arrives, Winn is plagued with symbols racing through his mind. He has no idea what they mean, but he suspects they're a message, sent to him from someone trapped in a place where messages aren't supposed to escape.
With the help of Carma and David, Winn begins a quest to find out what the symbols mean. Along the way, he faces maniacal ghosts and unsavory opportunists. Thankfully, his friend Awan has connections that can help, and soon they discover dangerous, evil forces moving all around them, gathering for a confrontation.
When they uncover the nature of the impending conflict, they're frightened — terrified of what might happen, terrified of the role they're expected to play, and terrified for Deem.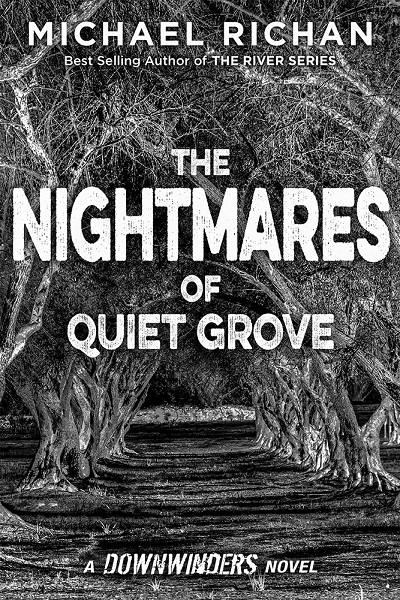 Something evil is buried at the estate of Quiet Grove, so deeply hidden that Deem and Winn are unable to reach it with their "gift." David's aunt lives in fear on the estate, plagued by sleepless nights with an unbearable gnawing sensation inside her head. When Deem and her friends try to locate the source of the estate's hauntings, they uncover a shocking secret that leads them into uncharted waters. They soon find themselves out of their depth, unsure how to combat the nightmares that become real.
Quiet Grove lies east of the Nevada nuclear test site in the heart of the fallout zone. Ghosts from its sinister history have mutated into horrifying creatures, terrorizing Deem, Winn, David, and Erin in this new paranormal mystery.
Read more about downwinders at Wikipedia's "Downwinders" page. You can also read more about the Nevada Test Site.
---
 The Dark River Series
The Dark River: the place in the River where most gifteds will not go, a place of evil and addiction where only the desperate, foolish, or depraved enter.
First introduced in The Haunting at Grays Harbor,  The Dark River is a place inside the River. It can only be accessed in specific physical locations. One of these locations is in the eastern U.S., near Appalachian country. The other is in Utah, twenty miles north of St. George, near the Utah/Nevada line.  A takes place at the eastern access point.
There is crossover between events in this series and the first series, The River. Be sure to check out the Suggested Reading Order.
Here are the books in The Dark River series:
Derick was once a cop who, like every other cop, ignored the strange and inexplicable things that would pop up every now and then in his police work. After he retired, he decided to explore these unresolved things, and he discovered a clandestine world of people who are able to communicate with the dead. Though not gifted himself, he found a way to not only enter the Dark River, but also to make some money, taking contracts to pull people out and back to the real world.
This time, the contract he takes turns out to be more than he bargained for, and it takes him deeper into the Dark River than he ever wanted to go. He faces strange, sadistic creatures, an infection that requires routine treatments to keep at bay, and the constant threat of firestorms as he escorts a woman with a secret through the foreboding landscape to her destination in a rebel town.
A is a fast-paced paranormal mystery, filled with strange twists and turns in a sinister setting. It's the first book in The Dark River series, set in the same universe as its companion series, The Downwinders and The River.
In the real world, Derick is just a retired cop; but in the Dark River, he's public enemy number one, living in a land of ghosts.
Most people with the gift won't enter the Dark River. It's a disturbing place of evil, where it's easy to lose oneself in its depraved pleasures – or die in the jaws of a horrifying creature.
Though Derick isn't gifted, he's found a way to enter the Dark River, but only to pay the bills: people pay him to go there and extract loved ones from its clutches.
After an extraction goes wrong, Derick becomes a wanted man. Wanted for helping rebels. Wanted for murdering Yann, the great torturer. Wanted for destroying an entire town by fire.
Derick also finds himself the de facto father of A, a monochild with secrets of his own.
Derick's journey takes him to the gory graveyard of The Blood Gardener, where he forms an uneasy alliance. Will this help him destroy the forces determined to hunt him down?
The Blood Gardener is a fast-paced paranormal mystery, filled with strange twists and turns in a macabre setting. It's the second book in The Dark River series, set in the same universe as its companion series, The Downwinders and The River.
The Dark River: a place most people with "the gift" will not explore. Its reputation for evil and addiction is well known and well deserved.
Things have changed in The Dark River since Derick, a retired cop, found a way to take down the powerful LeFever. Chaos rules. Factions are vying for power. There's a leadership vacuum at the top, and people want Derick to fill it. The trouble is, Derick doesn't want to be in power.
Staying too long in the Dark River allows worms to hatch in the blood , eliminating the ability to return to the real world. A cure that would purge the worms is in jeopardy. Derick is pressured to take charge and govern in LeFever's place. To ensure the cure is instituted successfully, Derick reluctantly accepts his new role.
He soon learns troubling details: researchers are trying to make the cure work — but they're also investigating the strange circumstances of LeFever's death. Derick is stunned to learn that LeFever might have used an ancient ritual to survive death by changing himself in a bizarre and unimaginable way.
The intrigue of the Dark River deepens as new alliances are forged and betrayals emerge. In the end, he can only rely on A, the monochild. But A has disappeared…
Capricorn is a fast-paced novel set in a horrific underworld. It begins just days after The Port of Missing Souls (The River series) ends. Fans of The River series will not want to miss this continuation of the Unser story, set almost entirely in the creepy, shadowy realm of the Dark River.
---
Other Titles
No one, not even experienced ghost hunters and mediums, will enter Pitmon House. Its dark, abandoned halls hold inhuman secrets, and the spirits inside are violent and uncontrollable. Exploring its rooms is an easy way to get killed. So Pitmon House sits — locked up, abandoned, and silent.
Eliza's younger brother is struck down by an infection that has turned him from a normal, vibrant teenager into a raving lunatic, requiring constant sedation. She quickly realizes the medical community can't help him; she will have to use her dormant "gift" to save his life. Although Eliza is frustrated that her father died before teaching her how to use the gift, with practice she starts to see things that normal people cannot. Thanks to her co-worker Rachel's encouragement, Eliza becomes convinced that she can save her brother.
When the clues point to Pitmon House, even Rachel has second thoughts. Eliza must find the courage within herself to enter the frightening and perilous mansion, even if it puts everyone's lives at risk.
For a hundred years, people have moved out of Waverly, but not in.
The reason? It's haunted. Especially the old town hall.
When Rachel returns to Eliza begging for her help, Eliza agrees to use her "gift" to help Rachel redeem her past. Rachel takes her to the small, long-abandoned town of Waverly, where the few remaining houses hold a terrible secret that killed Rachel's friend many years ago. All of the houses seem interconnected, especially the old town hall, where the most frightening hauntings occur.
Eliza unravels the town's hidden past while trying to avoid the fate of Rachel's friend. She discovers why the hall is haunted — but understanding a ghost's reasons for being aren't always enough to get it to stop, especially when it's addicted to sick and horrific behaviors. Her friends Robert and Granger help, but there's no guarantee they can conquer the ghosts of Waverly Hall.
The Haunting of Waverly Hall is the sequel to The Haunting of Pitmon House.
A long weekend at a remote B&B was supposed to give Eliza and Robert some downtime. They soon discover that sleeping in the building unearths the spirits of people long dead, reviving a haunted mystery that has waited many decades to be solved. Eliza and Robert's plans to relax are put on hold while they try to help the owner of the B&B salvage his business.
Eliza and Robert both have the "gift," but using it is difficult in the old building; something is wrong here, something that obscures their ability to see what's truly happening. They discover a fiendish child who has taken diabolical secrets to the grave, intent on harming others. Their harrowing search for her — and the surprises buried with her — is filled with danger, as they discover much more evil and malevolent forces at work.
A Haunting in Wisconsin is a fast-paced paranormal mystery with an enjoyable cast of characters. It is full of twists and turns, as Eliza and Robert fight to save the B&B — and themselves. It is a stand-alone novel. No prior reading is necessary to enjoy this title.
Who wouldn't want revenge upon their high school tormentors? Paying the bullies back for their misdeeds is a fantasy every terrorized kid entertains. Freshmen Aaron and Phillip have been on the receiving end of relentless bullying, and when a mysterious method to exact revenge comes their way, they jump in wholeheartedly, anxious to see the kids who beat and humiliate them get what they deserve.
It goes way, way too far.
When Aaron begins to have second thoughts, he finds himself trapped, wrapped up in a cultish group determined to keep him involved in secret meetings, executing horrific acts of revenge all over the school. As Aaron comes to realize that revenge isn't what it's always cracked up to be, he looks for a way out. When he finally discovers it, he finds himself in the middle of a battle between good and evil, where evil will stop at nothing to achieve its ends.
---
New novels are underway! Sign up to receive an email when a new title is released. Your email will be kept private and not shared or sold.