I'm excited to announce that the next book in The River series is actually a start to a new series within The River "mythos."
Deem and Winn, characters introduced in Devil's Throat, now have their own series, "The Downwinders." As you'll recall from Devil's Throat, things in the River are a little fucked up compared to what Roy and Steven experience. The fallout from nuclear testing in Nevada has altered the way the River works, and altered many of the creatures which exist in the River.
The first book of The Downwinders series is complete, and will be published within the next couple of weeks! Watch this space for an announcement. Please sign up to receive an email – I only send out mass emails when there's a new book.
And for those who are anxiously awaiting the next Steven and Roy book, never fear, a new title in The River series is also underway and will be released in the months ahead!
I hope you enjoy the new series. It uses many of the things you're already familiar with about the River while introducing new characters and threats. Steven, Roy, and Eliza make a brief appearance in the book.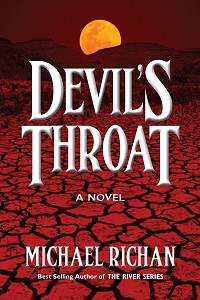 If you've not read Devil's Throat, it might be a good read before starting this series, as it will give you an introduction to Deem and Winn.
Thanks for reading!
More at the new Downwinders Series page at michaelrichan.com.