I'll thrilled to let you know that the fourth book in The River series, Eximere, is now available on Amazon.com for Kindle and Kindle readers.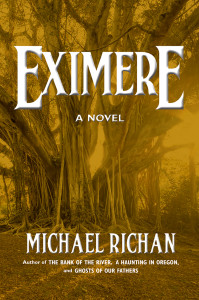 The book description:
Deep in the forests of the Pacific Northwest lies the haunted Unser Estate. A group of individuals with "the gift" assemble to find out what lurks inside the mansion.

At first, Steven and Roy are hesitant to work with unfamiliar people, but with their good friend Eliza, all three become committed to helping the others determine why the Unser mansion is poisoning the nearby town.

A simple team effort to rid the estate of hauntings soon turns into a nightmare as the group suffers attacks by strange, evil forces more sinister than mere ghosts. Dark and mysterious threats await them as they explore the mansion and determine exactly what James Unser was up to – a plan so evil, it threatens to destroy them all.
Hope you enjoy this latest installment in the further adventures of Steven and Roy. Book Five is underway! A big THANK YOU to fans and beta readers!!!
Mike