The sixth book in The River series is now available at Amazon for Kindle and the Kindle app on iPhone, iPad, Android, etc.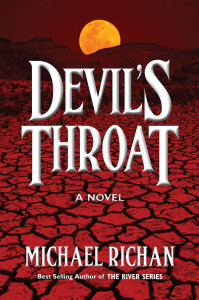 Devil's Throat picks up where The Suicide Forest left off. Here's the book description:
Far away, in the remote deserts of southern Nevada, lies a cave with secrets: strangely twisted creatures, mass deaths, and a hole so deep, anything that goes in, never gets out. 
Steven's son Jason has been taken to this desolate place by someone bent on vengeance. Steven and his father Roy pursue them in a desperate attempt to save Jason's life. 
However, the River is different here, where fallout from nuclear testing has altered the ghosts and entities inhabiting the many abandoned mines and hidden caves surrounding Devil's Throat. Steven and Roy are on unfamiliar ground; they seek the help of locals Winn and Deem to save Jason from a horrific ghost town, once submerged, now revealed.