The latest addition to The River series is now available for Kindle at Amazon!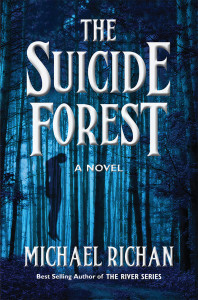 The book description:
In these dark, secluded trees in Washington State, it's easy to get lost, and desperation hangs in the air. The Suicide Forest is full of demons, drawn to those who come to kill themselves. Steven and Roy find themselves here, facing down an evil greater than any before.

The evil starts in the haunted Seattle home of June, grandmother to Robbie, a ten-year old boy who shares "the gift" with Steven and Roy. Steven suspects the ghostly attacks on June and Robbie are much more than a mere haunting and soon realize they are in over their heads.

They seek the help of Judith, an elderly eccentric, who guides them to a climactic confrontation in the dark clearing of The Suicide Forest.
Order your copy today at Amazon! For those of you waiting on a print version, it's about a month away, as is the print version of Eximere.
Thanks for following and I hope you enjoy this latest installment!
Mike